Wha Gwan 102019
WUSB Radiothon Fall 2019
WUSB broadcasts on 90.1 FM, covering most of Suffolk and Nassau counties and southern Connecticut, and also broadcasts live on the web. WUSB is Long Island's Pacifica Radio affiliate and has been a unique staple since 1977, programmed by Stony Brook University students and community volunteers.
Tune in and pledge (Online or with Snail Mail) your support for your favorite radio station, WUSB 90.1 FM, Stony Brook!
BUSINESSES - support your community with a contribution to WUSB! Its TAX DEDUCTIBLE!!!
Although WUSB is located on Stony Brook's campus they only get a minimal amount of funding through the Undergraduate Student Government (USG) and Student Activity fees. This leaves a black hole funding gap. So, this is where WUSB's semiannual Radiothon, occurring in spring and fall, comes into play.
This semiannual radiothon is a huge success, and really helps keep the radio station running. Additional donation benefits include the sweatshirt, the Tshirt, the mug, the cap, the bag, the CD (your choice of music genre) or a gift certificate for a local restaurant. Give a little and you get something. Give a lot, and you get the whole swag. You can call in your pledge at 1-631-632-WUSB (1-631-632-6901) or toll-free 1-888-632-9872. An Online Pledge or mailing a Pledge Form is just as effective.
Remember WBAI? The fate of traditional radio and uncensored broadcast programs are in the hands of our supporters. We [WUSB] are the Super Pac to watch your political back.
NYC PopUp: Dolby SOHO
Island at 60
The Island Records 60th Anniversary limited-time pop-up at Dolby SoHo will showcase the cultural, cool, and independent ethos of Island Records through the lens of iconic music, milestone albums, and game-changing artists.
The multi-exhibit experience is filled with engaging newly-remastered music and videos, artist appearances and a gallery of Island's most celebrated album art.
This immersive experience will also give visitors an exclusive experience with music in Dolby Atmos from Island artists like Bob Marley, Shawn Mendes, Demi Lovato, Bon Jovi, Elton John, Jessie Reyez, Skip Marley, The Killers, Amy Winehouse, Sigrid, and more.
Dates: October 12, 2019 - October 27, 2019
Recurring weekly on Sunday, Wednesday, Thursday, Friday, Saturday
Location: Dolby SoHo
Address: 477 Broadway, New York, NY 10013
Time: 1:00 PM to 8:00 PM
Price: Free
Scene Around: Island at 60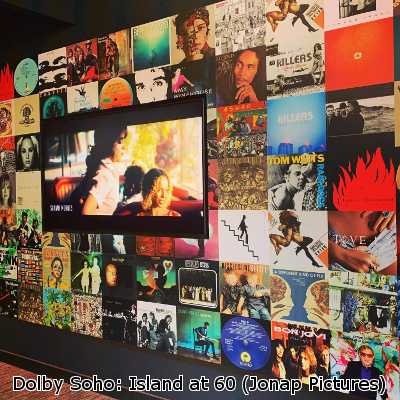 [TH] 96 degrees in the shade in Sydney!